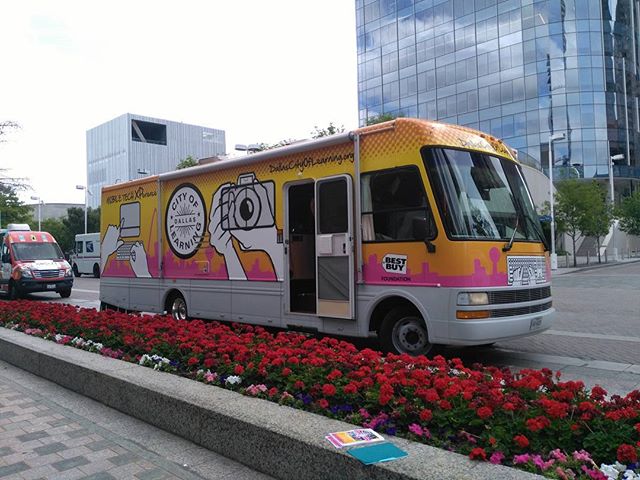 See More Activities Like This
Mobile Tech XPerience Day Visit
The Big Thought Mobile Tech XPerience is a rolling STEM classroom where students will be introduced to robotics, 3D modelling and printing, programming, and other technology exploration. It carries forty laptops, twelve robotics kits and four 3D printers.

The most popular activities consist of a Sumo Robotics programming and competition session at the same time as a 3D design session where students create a 3D printable personalized keychain medallion. Other options include programming with Scratch, world-building activities with Minecraft and digital media projects. Most activities can be customized for 4th grade on up.

A day visit includes four or five 1-hour sessions intended to serve 15 to 30 students per session. Students can rotate through multiple sessions on and off the vehicle. Availability preference is given to locations that serve larger numbers of students. For example, a location that can provide 60 students who can each participate in two consecutive sessions will get priority over a request to serve 15 students for 4 hours. Under-served communities will have priority over neighborhoods that normally have access to quality STEM summer activities.

For groups larger than 15 we will need a classroom or similar room inside the location where we will do a rapid setup of a tech classroom. Location-based wifi internet access is preferred but not required.

Summer availability is filling up quickly. Minimum booking deadline is 2 weeks in advance. The vehicle is 33 feet long, 10 feet wide and 12 feet tall. It requires a level parking space and not all locations can be approached. We will scout the location using satellite imagery, but may require an advanced site visit to confirm accessibility. We prefer to park in the shade, minimize the distance between the vehicle and our indoor activities, and have access to dual 20A external AC circuits within 100 feet of the vehicle. There are work-arounds if these preferences cannot be met.
---
Badges you can earn for this workshop
Age: 10—21
Cost: FREE
Type: In Person